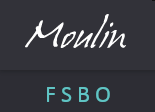 Advertise 'FOR SALE BY OWNER'
The 'For Sale By Owner' (FSBO) option to advertise is typically executed via a preferred Property Portal website and is usually a pure online activity in exchange for a payment that can vary anywhere from around €100 per annum to €3,000 for a fully serviced listing and marketing campaign. But let Moulin.nl surprise you!
Using a listing agent can be relatively costly and also varies from country to country. In countries where it is more common to appoint an estate agent with an exclusive sales mandate, the commissions are usually lower and typically between 1% and 2% ex VAT.

In many countries though, like Spain and France for example, residential homes are usually sold by way of a non-exclusive mandate where commissions will be anywhere from 3%-5% for higher priced properties and even up to 10% for properties with a list price of under 100,000. Property owners often extend non-exclusive mandates to be listed with a few regional and also more internationally oriented agents or portals which can often lead to a portal showing the same property at different prices and sometimes even different locations.
The 3 options that residential property owners have for selling their home are:
Appoint a local professional Real Estate agent to list and market the House
For Sale by Owner (known as FSBO)
Appoint an estate Agent and do a FSBO 'Do it Yourself' with your option to forward all leads to the estate agent, who can then handle follow up
Moulin.nl has been active since 2003 in a number of niche markets like Mills, Chateaux, Manor homes, Farmhouses etc. and offers the FSBO option with a very competitive price and listing solution. Properties can be listed on our expanding Portal with descriptions in the 6 primary languages English, French, German, Spanish, Italian and Dutch. All property details are always and automatically shown in all these languages.
Key Benefits of FSBO
A real estate transaction by the owner (FSBO) can save the seller many thousands in commission fees. 
In most instances the owner him- or herself knows the property best.
Doing the advterising of your property yourself often saves time because the communication with a potential buyer is instant, provided the owner is aware of the security risks dealing with online applicants and does a proper check on them.
Owner obviously always has the option to send leads generated by the Moulin Real Estate portal to an appointed local estate agent that protects the interest of the seller.
Key Benefits of appointing an estate agent
Market and negotiating experience
They filter to only approved and serious buyers
Risk of appointing an estate agent
Make sure the estate agent does not wear 2 hats. The agent you appoint must protect your interest in receiving a realistic price for your property. His interest is to sell the property as quickly as possible and earn a commission. This can sometimes lead to conflict of interest and ideally a potential buyer appoints an independent surveyor to inspect the property and at his/her own expense. Deals behind doors between agents and surveyors are common and sellers must be aware this isn't always in their best interest. The same can apply to a buyer who relies solely on the 'trusted' estate agent.
Advertise for just €0,25 per day is the best offer from Moulin.nl
You will be offered one of the best deals in the market and you WILL be found by a large audience. Moulin.nl will offer you an advertising rate of just €0.25 per day if you choose a minimum advertising period of just 6 months.
That is just €1.75 per week or €7,50 per month for a very detailed and complete listing with plenty good size photos and large facility for additional descriptions in up to 6 languages.
We like to keep it simple. One price, one period. If you sell quickly the cost is 'minimal' and if it takes longer the cost of advertising is still very very low once a sale has materialized. 
This is a very competitive offer not found anywhere in Europe with similar extensive and secure facilities.
Moulin.nl will offer you a listing facility with plenty of large size images, an incredibly extensive property details list that people can search on to find their perfect new home.
Priority Listing
If you desire extra attention for your property with statistically 3 x better viewings we offer a Top of page listing on 2 very relevant pages in our system for a period of maximum one month. The Featured listing price for one full month is €200 inclusive of 21% VAT. You can choose the best time to of year and we'd like you to contact us personally as we only accept 4 priority listings per region.
What asking price is realistic?
Do you need a valuation for your property from a surveyor or well trained and educated professional property agent? Most of the time this is not necessary. You know what your house is like and what it really offers in terms of quality and status. You will know whether your property has more to offer than the average home for sale in a similar neighborhood and of similar size. Scanning the web therefor gives you a pretty good idea at which price level the property can be pitched. Driving through various neighborhoods to do some research can help a lot to determine a best offer price for your home and after scanning the internet again. In slow or fast markets, a different strategy will apply and you can find a lot of good information on the internet how to approach your pricing strategy depending on your time window for the execution of a successful sale. 
FSBO? Show a "For Sale" sign with phone number or website address.
The "For Sale" sign outside the property can be an important part of your strategy. If the property is in a secure zone or location showing a 'For Sale' sign can speed up the time to realize a sale. Owners of larger properties should be aware that any public information available on the internet, such as an aerial view image, an address or any visible sign will lower the security status of the property to a certain extend. A lovely well-maintained property in a good location will always find a buyer even if no exact address is provided at first. Once the request comes in the seller can start the vetting process and eliminate early potential tourism
Where to list your property as FSBO
Several popular websites let borrowers search for homes. It is often recommended to put your FSBO home on as many websites as possible, including some which are for free. This strategy can be very counterproductive as we have found over many years of Internet advertising. Especially niche properties, such as typically shown on the Moulin.nl websites, will be researched in all the places where they are found on the web, and if something isn't quite right that property becomes a 'no go'.
Serious buyers will spend a lot of time researching and therefore you will do better starting with a listing that can satisfy your goal and also to test out. The Moulin.nl offer should not disappoint in this respect and you can start right now by clicking one of the links on this page.
Contracts and Negotiations
If you choose to do this yourself, it is easier than you might think. A buyer has the right to choose the notary or he/she can choose someone you know. It is up to them and it will take as long as is typical in a certain region or country. If you are really happy with a realistic asking price the negotiation should be simple. You may wish to markup the price just a little to give a buyer some room for success, but that also depends on the conditions of the property market at that time.
Make sure your house is immaculate
Prepare you house to be in a clean and generally repaired condition and be ready for quick visit requests. Little paint jobs can make a big difference as well as less and easy positioned furniture and other articles in the various rooms. Remove any non-relevant items before taking a picture such as vacuum cleaner in the room or a cleaning cloth on a table.

Take time to photograph every aspect of your property, both interior and exterior, and upload the best photos to the website listing. Make more than one digital image of every aspect and choose the one with the best quality and lighting. Quick photo jobs are often counter-productive.

Buyers like to feel free when visiting a house to buy. Make them feel at home with a few flowers or plants here and there and a fresh smell throughout. Then give them space to wonder around and talk freely without your presence.